Filmanmeldelse: The Power of Glove (2017)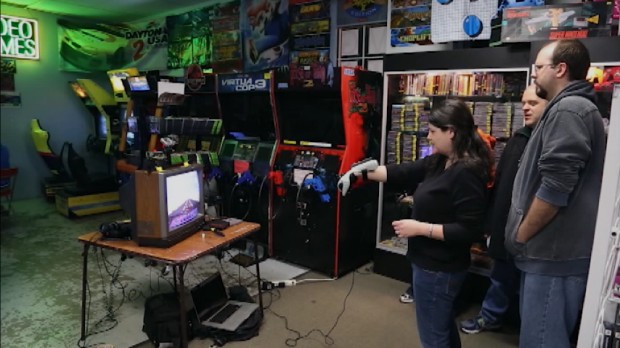 Jeg kom for litt siden over dokumentaren The Power of Glove. Den startet som en Kickstarter i 2013 og blei gitt ut i 2017. Den er egentlig ikke for salg, hverken fysisk eller digitalt (iallefall ikke ennå). Men jeg kontaktet dem på Facebook og de hadde noen overskudds DVDer fra Kickstarteren som jeg da fikk kjøpt et eksempler av.
The Power of Glove tar for seg det meste rundt NES-kontrolleren Power Glow og har vel to fokuspunkter. Det ene er naturlig nok alt rundt selve kontrolleren som utfordringer rundt utviklingen, promotering. Det andre er tilhengerhengerskaren, fansen og kulturen rundt  selve kontrolleren.
Det mest interessante er kanskje å se hvordan utviklerne på den ene siden og utgiveren Mattel på den andre siden prøvde å pushe Power Glow ut på markedet, før produktet egentlig var ferdig.
Teknologien som var utgangspunktet til Power Glow kostet vel noe sånt som 11 000 dollar. Det skulle da gjøres om til et produkt som kunne selges for under 100 dollar. Og det sier seg vel selv at et slik produkt ikke kan være like godt som originalen.
Jeg lærte mye av å se dokumentaren. Som for eksempel at det var plassert tre sensorer ved TVen som mottok og sendte tilbake til hansken. Dette tok jo litt tid og prosessere og i dokumentaren så sier de faktisk at Power Glow er tre ganger tregeren enn en vanlig NES-kontroller.
Det største problemet med Power Glow i tillegg til at den var treg, var at det var svært lite spill som var laget spesielt for kontroller. Kun to spill blei lagd, og yttereligere to spill var annonsert, men kom aldri på markedet. Dermed satt spillerene der med en fascinerende kontroller som egentlig ikke fungerte så bra.
Det var absolutt interessant å se denne dokumentaren om Power Glow som jeg visste svært lite om.