Anmeldelse: Lemmings (ZX Spectrum, 1991)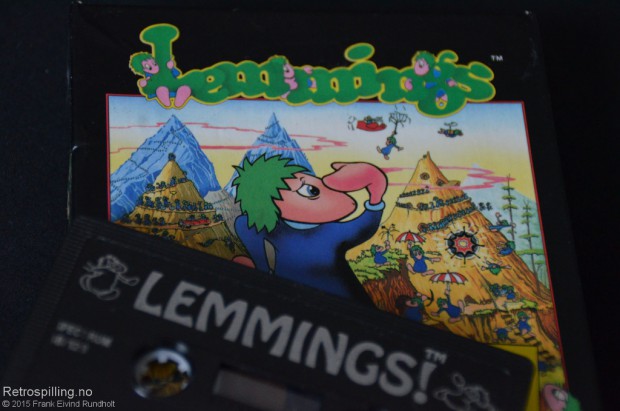 ZX Spectrum er en datamaskin med veldig begrenset maskinvare. Likevel har utviklere klart å produsere imponerende spill til denne manskinen.
Lemmings kan nok sies å komme til ZX Spectrum (som kom ut i 1982) i maskinens siste leveår.
Til tross for store begrensninger har DMA Design klart å skvise ganske mye ut av maksinvaren. Alle standard egenskapene til Lemmings er med. Det betyr at Lemmings kan bli litt mer inteligente ved å bli enten en Climber, Floater, Bomber, Blocker, Builder, Basher, Miner eller Digger.
Den grafiske begrensningen til ZX Spectrum er at innenfor en pikselblokk på 8×8, kan det bare være to farger (av totalt 15). Så i mange Spectrum spill skifter ofte en sprite farge når den beveger seg over skjermen i det den passerer en blokk med andre farger.
Så i Lemmings på ZX Spectrum består spillområde kun av to farger. Bakgrunnen er hovedsaklig sort, mens grafikken enten er gul, blå, grønn, lilla, rød eller cyan (mulig også hvit, men så mye har jeg ikke spilt at jeg oppdaget det).
Selv med denne store begrensningen, er brettene overraskende godt detaljerte. Med både Lemmings og landskap i samme farge, er det sjelden noe problem å skille dem.
Du kan styre spillet med enten tastatur eller joystick. Jeg synes muspekeren kanskje er noe treg, men det går likevel forholdsvis greit.
På ZX Spectrum består Lemmings av bare 60 brett fordelt på vanskelighetsgradene Fun og Tricky på side A av kassetten og Taxing og Mayhem på side B.
Det er ikke mye lyd i spillet. Har du en ZX Spectrum 48, blir du avspist med et lite klikk i det du velger en Lemming på skjermen. Skulle du være så heldig å ha en Spectrum med 128 Kb minne, har du mulighet til å høre en melodi når du spiller.
Selv med nevnte begrensninger, fungerer Lemmings på ZX Spectrum veldig bra.
Utvikler: DMA Software
Utgiver: Psygnosis
Utgitt: 1991
Kategori: Puzzle
Spillerer: 1
Platform: ZX Spectrum 48/128
This slideshow requires JavaScript.