Anmeldelse: Lotus Turbo Challenge 2 (Amiga, 1991)
Lotus Turbo Challange 2 er et av mine favoritt bilspill. Spillet kom til Amiga i 1991, men dukket også opp på Amiga CD32, Atari ST og Sega Mega Drive.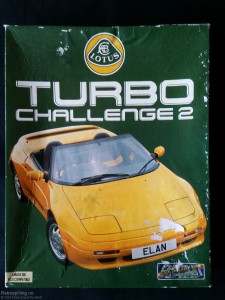 Spillet er av arcade-typen, der du spiller en rekke baner som består av checkpoints du må komme til før tida går ut. Naturlig nok blir det vanskeligere etter hvert som du kommer lenger. Men heldigvis på de par siste bretta, dukker det opp både turboboost og ekstra tid.
Spillet består av åtte ulike baner (passord kan du se nederst i blogginnlegget), hvor du blant annet kjører gjennom skog, ørken, snølandskap og kratig regnvær.
Jeg er litt usikker på om jeg har klart hele spillet uten å jukse (spilte det mye på første halvdel av 90-tallet). Men må jo si at det er gøy uansett.
Selv om jeg aldri har prøv dette, er det fullt mulig å koble to Amiga-maskiner sammen for å spille 4 player. Vil tro det kan være ganske gøy.
Grafikken i spillet er veldig bra. Men det er noen grafiske bugs her og der. På enkelte baner blir skilt/trær et grafisk kaos når de skaleres og er helt opp til skjermen. Men egentlig ikke så mye å bry seg om.
Tittelmelodien til spillet, er vel kanskje en av de kuleste og beste, uansett spill. Vet jo at dette er veldig subjektivt, men den faller i den kategorien. Rulletekst-melodien er heller ikke dårlig.
Har du ikke prøvd Lotus Turbo Challange 2 på Amiga, bør du absolutt gjøre det.
Lotus Turbo Challange 2 kan lastet lovlig ned fra gremlinworld.emuunlim.com.
This slideshow requires JavaScript.
Passord til de ulike brettene:
Forest course – [første brett, ingen passord]
Night course – TWILIGHT
Fog course – PEA SOUP
Snow course – THE SKIDS
Desert course – PEACHES
Motorway course – LIVERPOOL
Marsh course – BAGLEY
Storm course – E BOW
DUX tar deg til et lite minispill.