Retrospilltester: World Cup Italia'90 – Sega Master System
Dette er del 1 av 6 i min samtidsretro anmeldelser av Sega Master System spill. Anmeldelsene blei skrevet i 1991-92, da jeg var 14-15 år gammel. Det som blir omtalt som redaksjonen, er min søster og meg.
Du kan følge mine samtidsretro anmeldelser på taggen retrospilltester. Anmeldelsen er skrevet 29. desember 1991, og er tidligere publisert på frankeivind.net.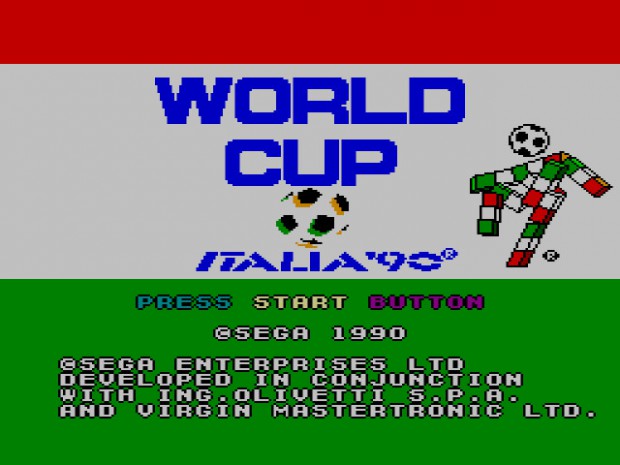 World Cup Italia'90
World Cup Italia'90 er et fotballspill for de fotball frelste.
Det finnes fem forskjellige valgmuligheter; med håndkontroll 1 kan du velge World Cup, test kamp og straffespark konkurranse.
I World Cup velger du et av de 30 lagene du kan velge blant. Når du har gjort det, begynner turneringen. På skjermen kommer de seks puljene fram. Visst du synes lagene i din pulje er vanskelige, kan du trykke på pause og en ny trekning foretas. Slik kan du fortsette til puljen din ser lett ut. Men det vanskelige er å komme videre til sluttspillet.
På testkamp og straffesparkkonkunkurranse velger du først ditt eget lag, selvfølgelig et av de beste, og så velger du computerens lag, et av de dårligere.
Med håndkontroll 2 kan du velge mellom test kamp og straffespark konkurranse, men da med to spillere. Spiller 1 bruker kontroll 1 og spiller 2 bruker kontroll 2. Det gøyeste er selvfølgelig å spille to spillere mot hverandre i kamp eller på straffespark.
Redaksjonens vurdering
Det er et ganske bra spill, men spiller du en kamp er det vanskelig å vite hvilken mann du styrer, uoversiktelig. I spillet World Soccer er et fint og oversiktelig spill, for der ser du mannen i sin helhet, mens i Italia'90 ser du bare en klump som løper (fordi du ser det ovenifra).
Tips: Prøv å behersk alle lag, til og med de dårligste.
Grafikk & lyd: 3.5 av 5




Spillkontroll: 2.5 av 5




Utfordring: 4.0 av 5




Underholdning: 4.5 av 5

Sjanger: sport




Antall spillere: 1-2




Continue: Nei




Utgiver: Sega
This slideshow requires JavaScript.