Anmeldelse: World Soccer (Sega Master System, 1987)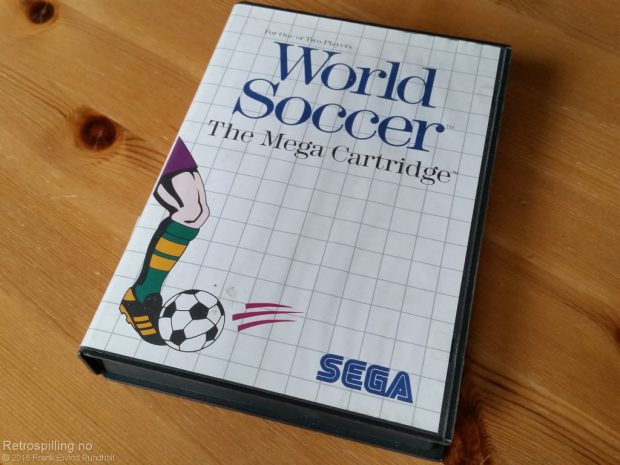 Det blir mye fotball i tiden framover nå som fotball-EM starter. Som en liten avveksling, kan man jo prøve seg på mange av fotballspillene som finnes til ulike konsoller.
I 1987 ga Sega ut spillet World Soccer. Nå er det kanskje ikke så mye 'world' med det. Spillet begrenser seg til et lite utvalg på åtte land. Svært likt mange andre 8-bits spill fra denne tiden.
Du kan velge mellom å spille som Argentina, Vest-Tyskland, Frankrike, Brasil, Storbritania, Italia, USA og Japan. Heller ikke dette utvalget overrasker særlig. Dette er land man ofte ser i sportsspill.
Bruksanvisningen innleder med overskriften World Cup Action. Det er nok kanskje å ta litt hardt i. For spillet mangler faktisk cup-delen. Du kan spille enkeltkamper og straffespark konkurranse som en spiller mot maskinen eller som multiplayer. Det gjør at det ikke så veldig givende å spille mot maskinen. Blir som en treningskamp. Om man er to så vil det nok være en god del morsomere, men dette har jeg ikke fått prøvd.
Jeg synes spillerne løper litt hakkete. Kontrollen over spillerne med spark, skudd og taklinger fungerer sånn passe greit. Nå skal det sies at jeg alltid sliter litt med dette i alle fotballspill. Jeg la merke til en liten og artig detalj da jeg spilte som Brasil. De kan nemlig ta brassespark.
Straffespark konkurransen fungerer bra og er også spennende som en-spiller.
Verdenscup trofeet deles ut etter kun en kamp og det er jo i minste laget. Om man er to spiller, vil nok World Soccer fungere.
Utvikler: Sega
Utgiver: Sega
Utgitt: 1987
Kategori: Sport/fotball
Spillerer: 1-2
Platform: Master System
Alternativt navn: Great Soccer (US)
This slideshow requires JavaScript.