Mini-anmeldelse: Nintendo World Cup (Game Boy, 1991)
Med tanke på at Euro 2020 starter i disse dager, kan det være greit å ta en titt på et av fotballspillene som finnes på Game Boy. Nintendo World Cup var opprinnelig et NES spill som kom i 1990 og er baserer seg på det japanske spillet Nekketsu High School Dodgeball Club: Soccer som er det fjerde spillet i Kunio-kun serien. Game Boy versjonen er faktisk 30 år i år og kom ut i april i Japan og i juni i USA og Europa 1991.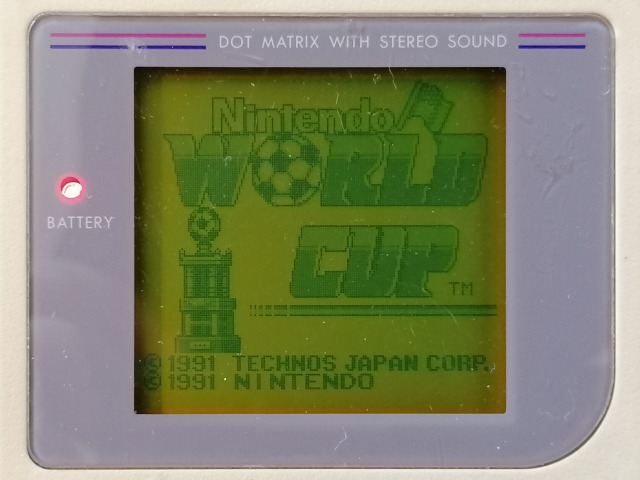 I Nintendo World Cup gjelder det naturlig nok å bli verdens mester. Du kan velge blant 13 lag. Norge er ikke et av lagene.
Du spiller faktisk 6-er fotball i dette spillet. Du har en i mål, to i forsvar, en på midtbanen og to på topp. Om denne begrensningen er teknisk eller bare for å gjøre det enklere, vet jeg ikke.
Jeg har aldri vært spesielt god i fotballspill. Og dette gjør seg faktisk også gjeldende i Nintendo World Cup på Game Boy. Nå kan jeg i det minste skylde på skjermen til Game Boy. For her må du nok justere på kontrasten og vinkelen på skjermen sånn at du ser best mulig av det som skjer. Tempoet gjør jo at bildet blir litt slørete og jeg synes det kan være litt vanskelig å skille spillere fra hverandre, om det er på eget lag eller hos motstanderne.
Slik jeg opplever det, er det spillet som bestemmer hvilken spiller du styrer. Det blir da den spilleren som er nærmest ballen. Du har mulighet til å sparke ballen langt eller sentre ballen til en medspiller.
Før kampene kan du gjøre et par strategiske valg. Du kan velge mellom å sentre eller drible, og om medspillerene dine skal skyte ballen ofte eller ikke.
For meg er ikke Nintendo World Cup noen höydare, dessverre.