Anmeldelse: Lemmings (Sega Mega Drive, 1992)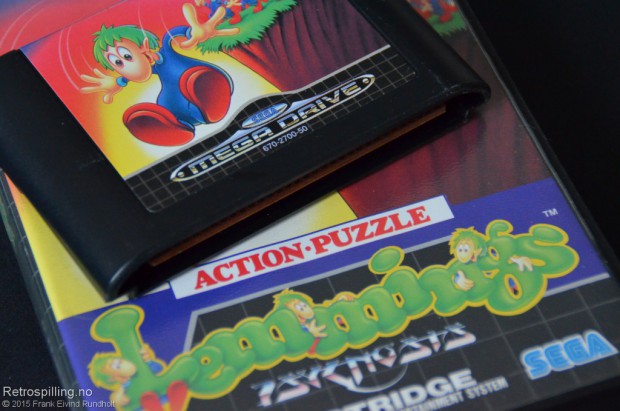 The Lemmings are on the move! They walk off cliffs, wander mindlessly into flames and drop like rocks into pools of water.
Det er teksten på esken til Lemmings for Sega Mega Drive. Med andre ord gjør ikke Lemmings stort annet enn å gå til de får beskjed om noe annet. Det er heldigvis mulig å gi Lemmings følgende egenskaper: Climber, Floater, Bomber, Blocker, Builder, Basher, Miner, Digger og Nuke 'em.
Lemmings på Sega Mega Drive skiller seg ut fra mange av de andre versjonene ved at spillet har hele 180 brett. Det er en blanding av brett fra det originale spillet i tillegg til 81 ekslusive brett lagd av Sunsoft for Mega Drive.
En annen fordel i Mega Drive versjon i forhold til andre versjoner, er at Segas 16-bit maskin har 2 player modus. Den ene styrer blåkledde og grønnhårete Lemmings, men den andre har kontroll over grønnkledde og blåhårete Lemmings.
I tillegg til de tradisjonelle vanskelighetsgradene Fun, Tricky, Taxing og Mayhem, er det nå kommet to nye; Present og Sunsoft. Jeg så litt i bruksanvinsingen til spillet og i den tyske oversettelsen står ordene Total Umöglisch i parantes bak Sunsoft. De sier kanskje sitt.
Det er lett å styre pekeren med D-padden og enkelt å velge egenskaper for Lemmings. Dette kan enten gjøres ved å bevege pekeren ned til egenskapene eller holde inne B-knappen og bevege D-padden til ønsket egenskap.
I forhold til Sega Master System versjonen, virker fargene i Mega Drive versjonen blassere. Jeg synes Master System virker noe friskere. Men Mega Drive vinner på eye candy. Da tenker jeg først og fremst på animasjoner av vann- og flammehav. Det gjør det lille ekstra.
Musikken er god og lydeffekten like så (de gjør i alle fall nytten sin). Er kanskje litt rart at "Oh no"-samplinga som lillebror Master System har, ikke er med.
Lemmings fungerer godt på Sega Mega Drive. Det som gjør denne versjonen bedre enn en del andre, er 180 brett og 2 player modus.
Utvikler: Sunsoft
Utgiver: Sega/Psygnosis
Utgitt: 1992
Kategori: Puzzle
Spillerer: 1-2
Platform: Sega Mega Drive
This slideshow requires JavaScript.