Bokanmeldelse: Lemmings – The Ports (2015)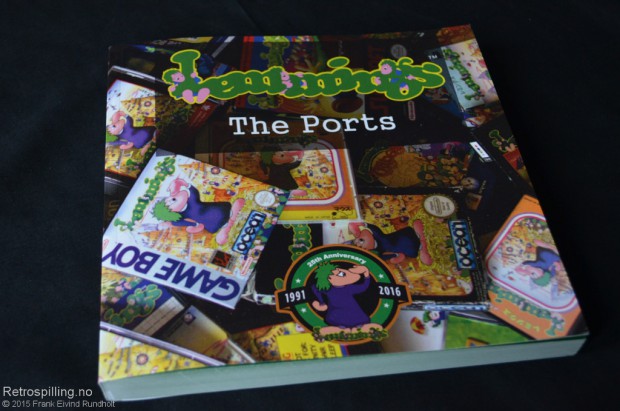 Lemmings – The Ports er en bok som tar for seg alle offisielle utgaver av spillet Lemmings på ulike platformer. I tillegg dekker boka en god del uoffisielle versjoner også.
Boka består av 300 sider og nesten en tredjel av boka tar for seg det første spillet i serien. Kanskje ikke så rart siden Lemmings blei konvertert til over 30 forskjellige platformer.
De første sidene i boka består av intervju med DMA Design, selskapet som sto bak Lemmings. Jeg synes dette er noe vanskelig å lese, siden boka er forholdsvis bred og teksten går over hele siden. To kollonner hadde absolutt gjort seg. Hvit tekst på mørk grønn bakgrunn er heller ikke helt heldig.
For hvert Lemmings spill er det skjermbilder til alle brettene, inkludert eksklusive brett for enkelte konverteringer. Hver platform har fått tildelt to sider med skjermbilder for den versjone, priser, utgivelses datoer og litt tekst om selve spillet. Hadde kanskje vært ønskelig med mer info, men funker greit.
Boka er kanskje noe dyr. I skrivende stund koster den £34.50 )ca. 400 kr) på Amazon.co.uk, men bare $25.46 (ca. 193 kr) på Amazon.com [affiliate link] + porto. Så det kan være verdt å sjekke litt rundt.
Er du interessert i Lemmings, er Lemmings – The Ports en grei bok å ha. Fungerer veldig fint som et oppslagsverk.
This slideshow requires JavaScript.
---
Aktuelle innlegg: