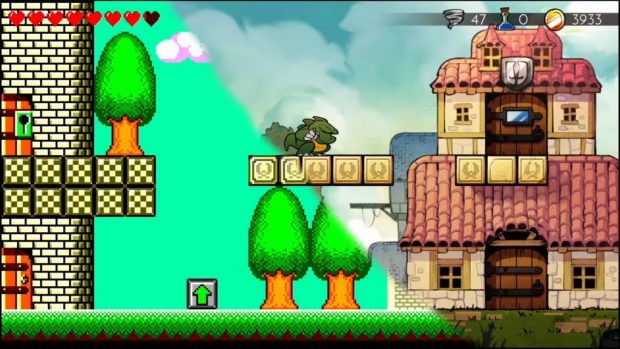 Et av mine absolutt favoritt spill usansett sjanger og konsoll, er  Wonder Boy III: The Dragon's Trap på Sega Master System. Lizardcube  har jobbe med en remake av  det spillet en stund, og nå er lanseringsdatoen klar.  Wonder Boy: The Dragon's Trap kommer 18. april .
Spillet blir tilgjengelig på Nintendo Switch,  Xbox One og PS4 18. april. PC-versjonen kommer senere.
Mecha  Dragon har omgjort Wonder Boy til  Lizard-man og han må gjennom Monster Land og bekjempe forskjellige draker før han kan bli seg selv igjen. Men før det blir han til både Mouse-man, Piranha-man, Lion-man og Hwak-man.
Den nye remaken  har ikke bare fantastisk flott grafikk. Du kan  nemlig når som helst skifte til 8-bit grafikken man finner på Master System. Ikke nok med det, men passordene du har fra  Wonder Boy-spillinga  fra 1989, kan fremdeles brukes.