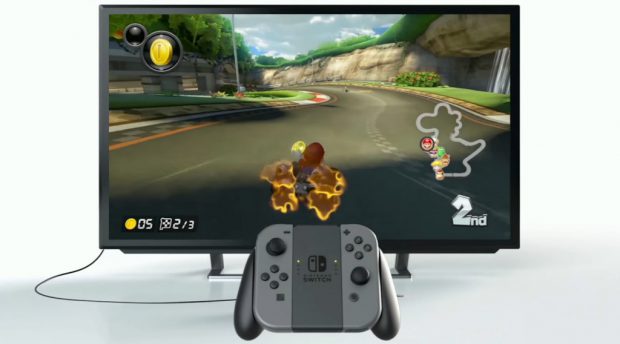 Jeg var veldig spent, da jeg sto opp tidlig fredag 13. januar for å få med meg presentasjonen om Nintendo Switch fra Japan.
Hele presentasjonen kan du se i videoen under.
Nintendo Switch er både en hjemmekonsoll og en bærbar konsoll. Den har tre måter man kan spille med den på. Enten på TV hvor oppløsningen er 1080p eller håndholdt hvor den 6,1 tommers skjermen viser 720p. Nintendo Switch kommer også med en støtte, slik at den kan stå på bordet og man kan ta av kontrollene på hver side og spille to mot hverandre.
Jeg blei litt imponert over hvor mye teknologi som må sitte i de kontrollene. Joy-Con som kontrollene heter, har innebygd IR-bevegelseskamera som kan båte måle avstand og kjenne igjen former. Med HD-vibrering skal visst nok ta realismen til nytt nivå. Det blei demostrert med isbiter som slippes opp i et glass for deretter og bli fyllt med vann. Blir spennende å kjenne hvordan det føles.
Kontrolleren har også en egen knapp for å ta skjermbilde som kan deles. Etter hvert vil det bli mulig å ta opp video også.
Batteritiden når konsollen er i håndholdt modus vil variere fra spill til spill. Men estimatet ligger på 2,5 til 6,5 time, noe som egentlig virker greit. Det nye Zelda spillet gir ca 3 timers spilling.
Nintendo Switch kommer med 32GB innebygd minne, men kan utvides med MicroSD-kort og støtter opp til hele 2TB (men slike kort finnes ikke ennå). Spillene til Nintendo Switch kommer på egne små spillkassetter.
Nintendo Switch vil ha en onlinetjeneste som vil som er gratis ved lanseringen og fram til høsten en gang. Tjenesten lar deg spille online, lobby og voice chat og hver måned kan man laste ned et NES eller SNES spill med online modus (kan bli gøy) som kan spilles gratis den måneden.
Prisen på Nintendo Switch ligger på rundt 3600-3700 kroner i ved forhåndsbestilling på norske nettsider. Det gledelige med konsollen, er at den er regionfri. Så det er mulig å kjøpe spill fra hvor som helst i landet.
Det er fem spill som er bekreftet ved lanseringen 3. mars: The Legend of Zelda: Breath of the Wild, 1-2-Switch, Just Dance 2017,
Skylanders Imaginators og Super Bomberman R.
For min del blir det nok Zelda og Bomberman jeg kommer til å kjøpe ved lanseringa. Mario Kart 8 Deluxe kommer 28. april og det dukker nok også opp i samlinga mi. Ser også fram til Super Mario Odyssey som kommer nærmere jul 2017.
Jeg er veldig spent på Nintendo Switch og gleder meg til 3. mars.
The Legend of Zelda: Breath of the Wild

Super Mario Odyssey

Mario Kart 8 Deluxe